One year on, this is what Kate Callaghan's mother wants people to know.
One year on, Robyn fills in the gaps of what happened to Kate who declared she was cancer free when she passed away just 7 months after her stage 4 breast cancer diagnosis.
What Happened To Kate Callaghan? A Mother's Story With Robyn Edleston.
Today marks the one-year anniversary of the passing of one of my close personal friends, Kate Callaghan, also known as @theholisticnutritionist.
Kate was an internationally respected dietician, author and hormone healer who passed away after a short but courageous battle with breast cancer, aged just 36 years old.
One year on, I am joined by Kate's mother Robyn Edleston on The Art of Listening to Your Body podcast. Robyn shares many of the same beautiful qualities as Kate and she and I have worked together to help process the emotions within the various stages of grief after we said goodbye to Kate. I hope you enjoy this very special conversation.
Facing Fear - How To Step Out Of Fear And Use It For Good
Moving through fear is about getting comfortable with discomfort, going back to process emotions that were unable to be expressed in that moment, allowing us to move forward in life.
Examining The Experience Of Pain
We have traumas that are associated with emotion, and if that emotion doesn't get expressed because it is too inconvenient in our Western life or because we don't know how to express it because of the upbringing we have had, it gets stored in the body as a source of stress.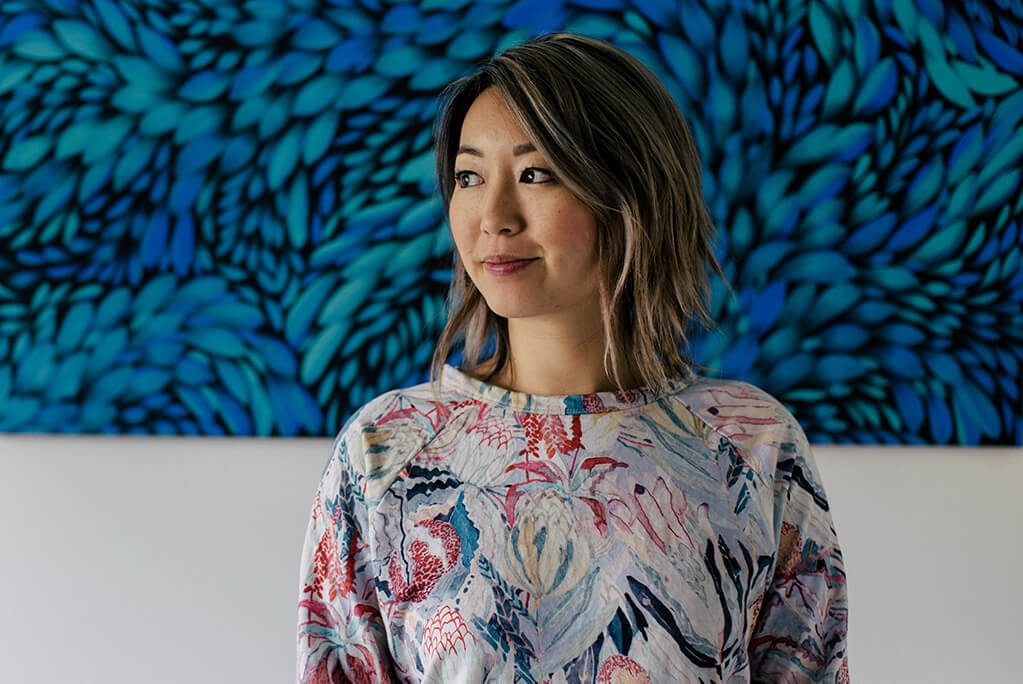 The Art Of Listening To Your Body
Founder of MetaMed Integrative Osteopathy and Holistic Chiropractic clinics, Psychosomatic Therapist and mother, Jin Ong, is trail blazing the awareness, and teaching the community just how much their physical body reflects their emotional state. Jin helps her clients acknowledge how their emotions are manifesting in their body as pain, dysfunction or disease, and then facilitates the process of release, ultimately leading them back on the right path to living to their full potential.
Pregnancy brings momentous changes to a woman's body – not all of them welcome. But with the right treatment, and a little caution, it's possible to be comfortable.
When it comes to pregnancy, there are often two distinct camps: the glowing and energetic mums-to-be, sans aches and pains, and the bone-tired, can-barely-walk women who are counting down the days until their body is no longer held hostage.
I believe my purpose in life is to free people of pain by helping them become more emotionally aware and reconnect them with their own soul purpose. With so much information out there and a million pieces of contradictory advice online, I believe it's more important than ever to find a trusted source of knowledge where you can lean into what feels right for you when it comes to pregnancy and birth. Not just what your grandma did, what your mum thinks or what your GP states.
The Hustle & Flow Podcast with Shaun Cooper & Leslie Lau
The Hustle & Flow podcast comes from the brains behind the Finding Space project. The podcast dives into ways to find space from the noise and daring to slow down.
Dr Jin Ong joins Shaun and Leslie to discuss cathartic release therapy and so much more. Jin speaks about her pain story and how this led to discovering psychosomatic therapy. Jin is a great advocate for listening to what your body is telling you and questioning traditional approaches and conventional medicine. Jin also discusses ways to get into a preventative mindset and the importance of working on ourselves.
A fascinating discussion from some like-minded thinkers.
Pregnancy, Birth & Beyond PBB Media Podcast​
Jin speaks with Oni from the Pregnancy, Birth & Beyond podcast on the importance of doing the deeper work when working with women on the issue of fertility. The podcast covers the less-spoken-about areas of pregnancy, including miscarriage, abortion and how emotional release is a tool to use when healing from these experiences.
Jin shares her own birth story as well as her lotus birth story with daughter, Violet. Managing pain is always a topic that comes up for those approaching childbirth, and Jin shares her experience of a painless birth, even though she had recently taken part in a friend's research study on pain and scored the lowest for pain threshold.
A fascinating chat for everyone, not just those thinking about pregnancy.
How To Say "NO" + Set Healthy Boundaries – The Modern Girl Podcast with Katelyn Parsons
Dr Jin Ong talks emotions, boundaries, anger and eating disorders with Katelyn Parsons from The Modern Girl Podcast. In this lively chat between these two engaging women, Jin takes the opportunity to share her wisdom on all things to do with emotional healing.
She shares the story of the work she has had to do herself to recognise the emotions connected to her skin issues. The podcast also sees Jin covering her areas of expertise, including the mind-body connection, liver and gut health, the importance of listening to your body, setting boundaries if you're a people pleaser, and where emotions show up in the body. Jin also dives into Ayurvedic healing and doshas.
The Wānaka Podcast hosts a regular conversation with a talented Wānaka business owner to uncover what makes them tick and what they love about doing business in Wānaka. On the podcast, Dr Jin Ong shares her journey of building her osteopathy and chiropractic clinic, Metamed Health.
Jin's vision for her business was built on intention, goals and purpose. Since recording the podcast, the Metamed team has grown even larger, and Jin has stepped back from clinic work to focus on her cathartic healing programmes and coaching. One thing that remains consistent is Jin's commitment to doing the deeper work and understanding the mind-body connection throughout everything she undertakes.
Emotions and Dis-ease with Jin Ong
The wonderful Natalie K Douglas chats with Jin Ong on The Holistic Nutritionists podcast. Natalie is a thyroid, gut and hormone healing expert who works with burnt out, overwhelmed women.
Jin and Natalie talk all things emotions and healing in this deep dive episode. Jin also explains why it's so important to listen to your body and the principles behind psychosomatic therapy. This is a fascinating listen for anyone who has ever wondered what practical strategies they can use to prevent emotions from storing in the body as well as ways to identify stuck emotions. Jin also gives a rundown of the common emotions linked to five key body parts.
Using Crisis To Ignite Exponential Change And Harness The Power Of Your Yin And Yang
As guest on The Answer is 42 live chat, Dr Jin Ong discusses the importance of listening to our bodies and uncovering what is holding us back.
The talk focuses on the way crises can push us into a place to grow and change and is particularly relevant following Covid-related lockdowns. Jin shares her wisdom on the actionable ways you can see through the clutter and achieve growth, even in the midst of chaos.
The discussion also covers Jin's own journey through the chaos of these unprecedented times and how she deals with the stresses and hardships that can arise. Using tools from Jin's planning power-house mentoring program, discover how to create a roadmap to ignite exponential change in life.
On the Naturomama podcast, naturopath Bec Talia talks to Jin Ong on a wide range of Jin's favourite subjects, with a big focus on emotions held in the body.
Bec specialises in digestive health and helping identify and manage food intolerances in children and adults. Together, Jin and Bec delve into psychosomatic therapy and emotional healing. The discussion also covers Jin's other specialty areas, including osteopathy, western medical acupuncture and herbs. The conversation also veers into finding your soul's purpose. Pull up a chair, put on your thinking cap and have a listen to this fascinating conversation.
Thinking of booking Dr Jin for an event or interview?
To schedule Jin for a speaking event, interview, podcast, or appearance please get in touch via:
[email protected]
or fill out our contact form using the button below.
Press Images, Bio & Links
Please click any image to download in hi-res.
Dr. Jin Ong is a Cathartic Release Therapist.
Trained professionally as an osteopath, psychosomatic therapist, western medical acupuncturist and herbalist she has treated thousands of clients and founded the MetaMed Health clinics in New Zealand and hosts The Art Of Listening To Your Body Podcast.
Jin works with complex physical and emotional conditions that don't respond to traditional or conventional therapies, including surgery. She also works with cancer and terminally ill clients.
Jin is a strong believer that your physical body is a manifestation of your emotional state. The experiences, events and traumas in your life are associated with an emotion that wants to be expressed and released at the time. If you don't know how to express or rather you suppress because that emotion is inconvenient it gets stored in your body as a source of stress. You can compensate until you can't anymore. When it all gets too much, your body presents with pain, injury, illness, disease and mental imbalances. You don't need to end up at this crisis point.
Jin weaves in various traditional and eastern philosophies with western medicine to intuitively read the body and understand what emotions are stored. Most importantly she facilitates a deeply cathartic and transformational process to liberate the body of physical and emotional pain.
Jin loves to dig deep, speak about the unspoken, and help people process unresolved emotions that hold them back from living the life they truly want. It's all about getting comfortable with discomfort.